Computer training in your own home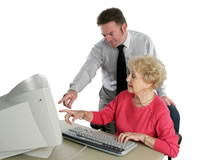 Carrick Web Design are here to help you get started using computers for personal or business use. We offer flexible computer training in the comfort of your own home. At a time that suits you and your level of computer skills from beginner through to intermediate user in Dumfries & Galloway area.

Are you like so many people, get very frustrated with your computer?

Do you feel that you'll never understand how it works?

Let us help you ! In no time we will cut through the confusion of using your computer. We will use easy to understand terms to explain tasks and answer your questions. There are so many tasks we can teach you a few are listed below.
Learn Windows
Windows basics for example :
Opening, closing, minimizing, resizing, moving Windows.
Switching between applications - how to use 2 or more programs at once.
Using menus, taskbar and system tray.
Printing, changing print properties, canceling or pausing a print job.
Creating and arranging shortcuts on the Desktop.
Common Desktop icons and what they do.
Using the Recycle Bin.
How to cut, copy and paste.
Connecting peripherals to pc and installing software etc.
File management : Using Windows Explorer and My Computer; understanding the Windows file hierarchy; opening files and folders; creating, renaming, and deleting files and folders; copying and moving files and folders; selecting multiple files; backing up files; restoring files from a backup disk;
and finding files.
Maintenance : To keep your computer running in tip top shape. Disk properties, ScanDisk, defragmenting a disk, backing up and restoring files, virus programs, installing new hardware and software, uninstalling programs, and system properties. Automation - make your PC do the menial tasks automatically.
Learn Internet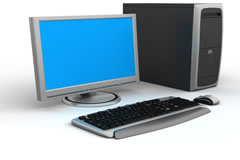 Use the Internet and email securely and effectively. Setting up your internet connection.
Using your browser, e.g. Internet Explorer, Firefox, Opera, Netscape and Safari.
Setting up your e-mail accounts, how to send and receive mail, working with attachments e.g. Learn how to send and receive Word documents and photographs as attachments via email.
Security prevent viruses and spyware from getting on your computer, use of antivirus software firewalls etc and shop safely online.
Learn how to find, download and install programs such as Adobe Acrobat Reader and WinZip. The first program allows you to view PDF (Portable Document Format) files on the web. The second program is used to zip and unzip large files. We can have you using the internet like a professional in no time at all.
We can also help, teach or advise you in any of the following:
Other services we offer :
Computer setup.
Printer setup.
Scanner setup.
Internet and Network setup.
Software installation.
Spyware and Virus Removal.
Trouble-shooting.
iPOD or other mp3 player
Digital Camera
Website Design related :
html / xhtml
css
javascript
perl
using dreamweaver
using flash
server administration and configuration
You can do so much with your computer
Want to know how to do something on your computer?
Please contact us today - we are only too happy to help no matter how small a problem you are having.