Website Hosting & Domain Name Advice
After giving this considerable thought we have decided not to offer website hosting for a few reasons. There are literally thousands of hosting companies to choose from offering all manner of technologies and incentives. Many website design companies do offer website hosting on the basis that they have a reseller deal with a company.
However, we would be only too happy advising you to help you choose or arrange website hosting for you. We are totally impartial to which company to use, we want you to have the best service and value for money for your business needs.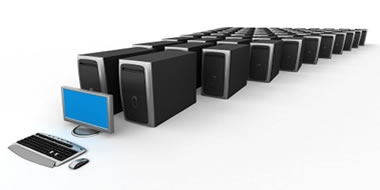 Website Hosting
A website is stored on a special piece of hardware called a server. This is capable of handling multiple requests to display pages so that people from all around the world can access the same pages at the same time. Simply put your domain name refers to a location on the internet where your website is stored on a computer permanently connected to the internet called a server.
Here is some things you should consider when choosing your host.
Technologies:

Ensure they support the necessary technologies you need for your website.
For example if your web site is data driven you will need a hosting company that supports your database and other server side technology used for your web site.
Bandwidth:

Ensure you have sufficient bandwidth per month to deal with your site traffic. Also watch out for charges for exceeding your bandwidth - make sure it is charged at reasonable rates.
Telephone support:

We would recommend a host with telephone support if you are not used to dealing with hosting a website. E-mail support is very good but can be a bit difficult at times trying to explain everything in an e-mail.
E-mail:

Ensure your host caters for all your e-mail needs. You may need multiple e-mail addresses and want spam and virus protection.
Domain Names
Simply put a Domain name is the address of your website, www.yourcompanyname.co.uk, www.mysite.com. Every domain name is unique. There can never be two domain names that are the same. This is why it is a very important reason to register your desired domain name before anyone else does. Even if you do not plan to implement your website in the near future, we would highly recommend we get your chosen website or business name registered right away to avoid the possibility of someone else registering it.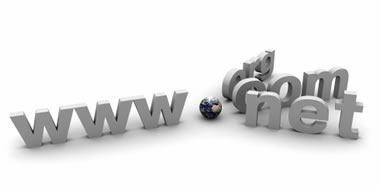 Choosing a suitable domain name
Choosing the right domain name for your business is of great importance. A domain name should reflect the status of your company and be easy to remember.
Most companies simply use their business name. This works well if you already have a large market audience. On the other hand if you are a new business, or do not have a large market audience, then using a common search phrase that people would type in a search engine to find a product or service as your domain name can provide better results on some search engines.
For example say your company name is Smith and Sons and you sell books consider something like www.uk-books.co.uk to use with your website and purchase www.smithandsons.co.uk or .com for those customers you already have.
Domain Name Registration
We can offer qualified advice on how best to choose a domain name that will benefit your business to the greatest extent. We will register your chosen domain name for you, the
domain name will be registered in your name.
Needing help or advice with a domain name or website hosting ?
Contact us today for free impartial advice.